Welcome to Daniel Group
Daniel Group of companies is specialized in providing result oriented world class engineering solutions for over 17 years. We are a combination of three certified, reputed and legally registered entities constituting the core of Daniel Group. Our forte lies in providing end to end technical support and comprehensive maintenance services to our massive clientele from a diverse range of industries that include, but is not restricted to Power rental, Oil & Gas, Construction, Manufacturing, Facilities Management, Shipping, Marine Engineering and Heavy equipment repairs.

Our engineering family is fast paced and constantly expanding. To have a quick look at the list of services we offer, click here, or request a call back in case you need us to customize your requirements.
Our Mission and Vision
To Provide best in class Quality service
With our vast experience and knowledge of serving clients from various types of industries for more than a decade, we assure you the best in class quality on all our jobs. There's no substitution for the best.
Quick Turn Around Time
With our fully optimized facility which is equipped with state of the art tools, machineries and highly qualified & trained team, we assure you the quickest turnaround time in the region.
An extraordinary effort in understanding and catering impeccably to client expectations
We take pride in undertaking and delivering all our jobs where minor or large. We approach every client with a focus on integrity, confidence and understanding.
Strategic priorities
All strategic priorities are oriented toward our customers with a focus on value creation and profitable growth
Technology leadership
Outstanding services
Continuous operational improvements
Collaborative advantage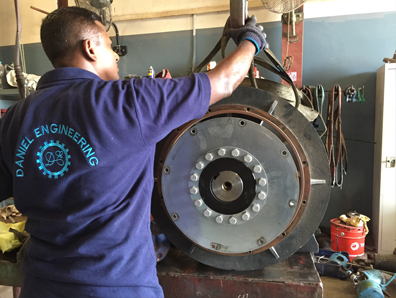 Daniel Engineering LLC was started in the year 2005 in the Al Qouz industrial Area 1. With a commitment to quality and continuous endeavors to achieve perfection, Daniel engineering has grown to be a trusted name in the industry. A major driving force in their vision for the future is a constant desire to deliver only the best to clients. Known for its reliability and expertise in the field of Electrical rewinding, it hopes to keep growing by leaps and bounds in the future.
Daniel Star Technical services LLC is the one-stop solution for an umbrella of engineering services. Daniel Star has a diverse range of projects under its portfolio – From major clients in the Hotel industry, Shopping malls, Cement Industry, Steel/ Aluminum mills to Oil and Gas field, we provide world-class solutions for all pumps, gearboxes, motors servicing and repair. With a dedicated team for onsite repair and annual maintenance Contracts, Being an ISO certified company Daniel Star leaves no stone unturned when it comes to quality of service.

Lion International was established in the year 1997, at the Jaddaf area, making it the earliest establishment by Daniel Group. Their long term presence in the market has earned them a rooted reputation to last over time. Over the years, with hard work, innovation and a commitment to excellence they have gradually expanded and increased the number of services they offer. Currently it occupies a space in the Al Quoz Industrial Area and caters to a host of clients across the region.