We operate out of a full-fledged and optimized facility that is equipped with state of the art tools and machineries and along with our highly qualified and trained staff, we are capable of handling and delivering the following.
Benefits
Rewinding and Servicing of Motors
Rewinding and servicing motors for almost two decades, we comply with all NEMA standards and provide best in class enamel copper winding with high H class insulation.

Dealing in LV & HV equipment, both AC and DC, with highly qualified trained staff we are able to handle any equipment from fractional HP to any capacity working with both round and strip wire gauges. We believe in High standards and are able to deliver swiftly with most affordable prices.
AC motors
DC motors
IEC motors
Arbor motors
Explosion-proof motors
(Ex 'e' & Ex 'd' Motors)
Hermetic motors
High-Efficiency AC motors
Induction motors
Marine motors
Permanent magnet motors
Servo motors
Slip ring motors
Spindle motors
Submersible motors
Synchronous motors and generators — brush & brushless
Variable speed motors
Vertical motors
Wound-rotor AC motors
Custom designed & specialty motors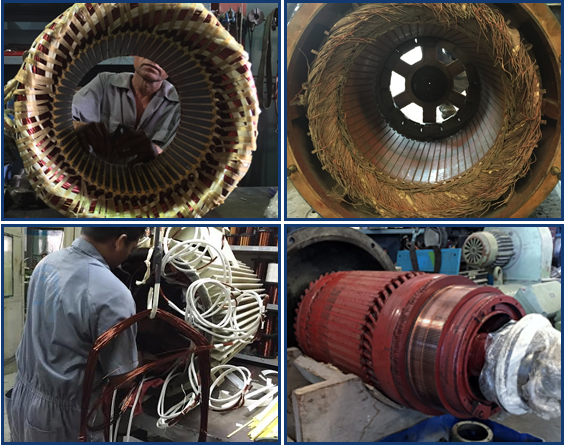 Rewinding and Servicing of Generators
We undertake Rewinding and Servicing of Generators from 12 KVA to 4000 KVA, and have a long term relationship with most of all the leading generator OEM's and rental companies in and around the MENA region.

With an in-house dynamic balancer, High Voltage testers and a fully-fledged dedicated machine shop we are able to comply with all the international standards at an optimal cost.

We also do individual parts servicing and winding like Rewinding and repairing of:
Main Stator
Main Rotor
Exciter Stator
Exciter Rotor and Pmg
AVR
Diode
Suppressor
Bearing replacement etc.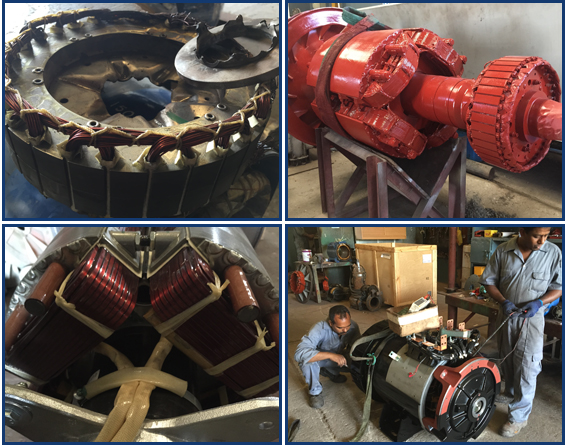 Pump and Gearboxes Services and Repair
We service and repair pump units from 0.5 HP up to any capacity for various industries like Residential, Commercial and Industrial building to entire District Cooling Facilities and plants.

We also service, repair gearboxes and manufacture gears as per specification for EOT cranes, cooling tower gearbox units and motor gearbox reducers.
Mechanical and Fabrication Work
Our fabrication division consists of experienced Welders and Machinist to manufacture any part or entire assemblies based on required designs.

Dynamic Balancing
In the Dynamic Balancing Division, dynamic balancing is carried out on an Fully Automatic Balancer by qualified staff, we undertake all kinds of balancing like, blowers, shafts, fans and impellers, rotors, rollers etc.

Other Services
Rewinding of transformers.
Rewinding brake & clutch coils, solenoid coils, welding machines.
Annual maintenance contracts for motors, generators and pump units.
For any further enquiry please contact us